The 2017 Beatrix Potter Silver Proof Set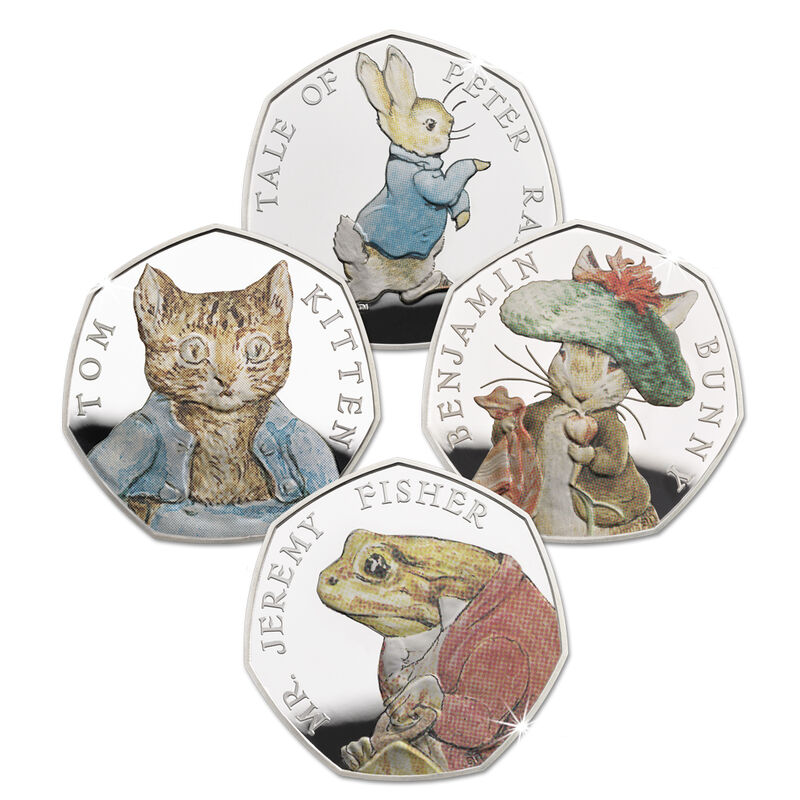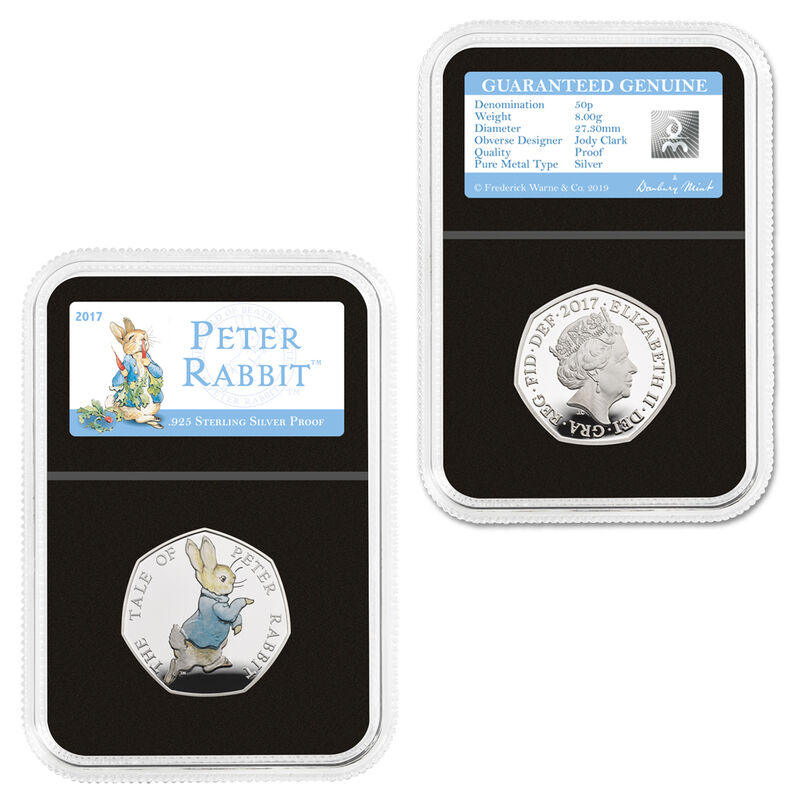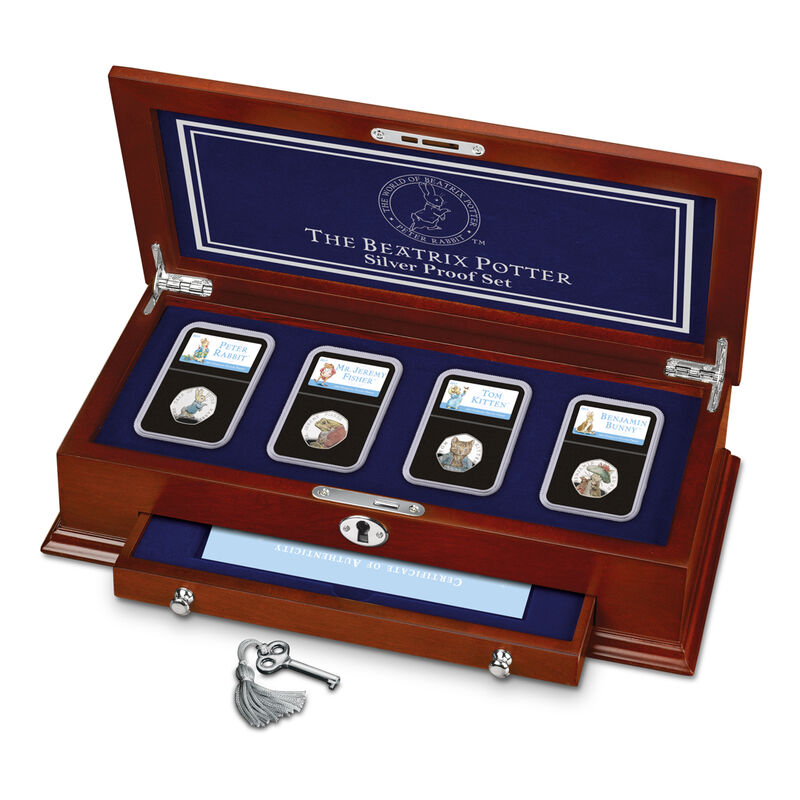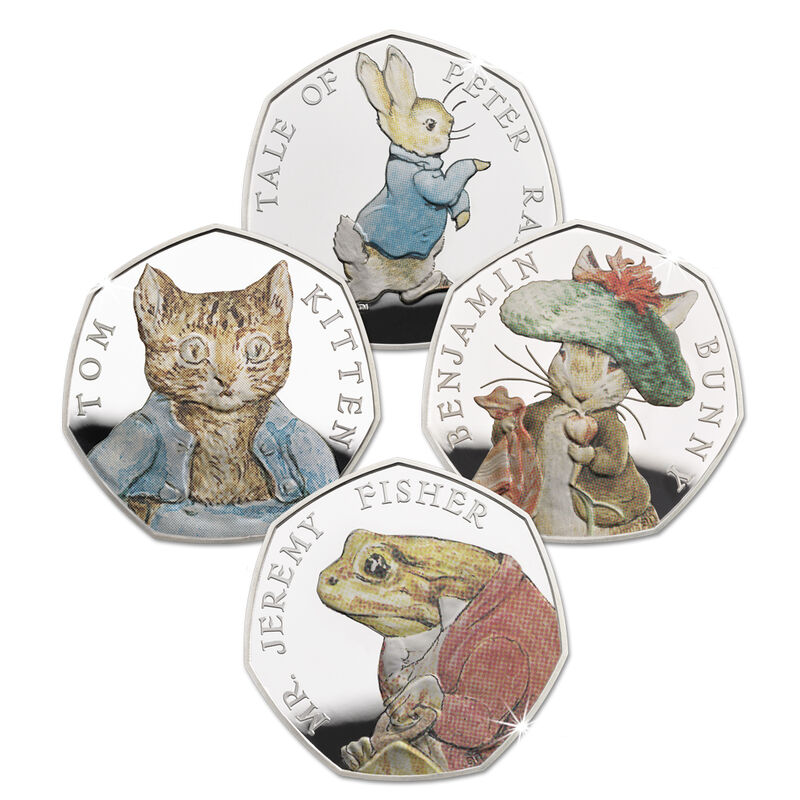 In stock. Ships in 3-4 business days.
£135
per coin
You will receive one coin every two months.
Beatrix Potter is one of the greatest children's authors of all time and her timeless work has been cherished for generations. She created a fantastical world full of adorable characters which have enchanted families for over a century!
Ever since the Royal Mint issued the first Peter Rabbit coin back in 2016 to celebrate 150 years of Beatrix Potter, British coin collectors have been in a frenzy! They have been clambering at the chance to own any of the coveted Beatrix Potter coins which were struck in very limited quantities. Now in 2019, demand has reached fever-pitch as this year marks the 50th anniversary of the 50p, sky-rocketing demand for these coins even more! These charming coins that you might find in your pocket are just the beginning… the Royal Mint has released a limited number of extra-special 92.5% silver proof coins in dazzling full-colour!
Now, Danbury Mint presents… The Beatrix Potter Silver Proof Set, a colour-enhanced complete collection of the 2017 50 pence silver proof coins. Each coin features one of Potter's quirky, loveable characters from Hill Top Farm, with every detail crafted to the highest level of intricacy. Your collection will include Benjamin Bunny, Jeremy Fisher, Tom Kitten and of course Peter Rabbit! The 2017 Peter Rabbit coin has sold out at the Royal Mint and collectors are on the hunt for such a rare coin in incredible proof quality.
Unbeatable proof quality – each silver coin has been struck not once, but twice for the superior crispness of design. Diamond paste is then used to bring the coin up to an unparalleled mirror-like brilliance; making these silver proof coins the pinnacle of the minter's art.
State-of-the-art preservation – Using Danbury Mint's "Sealed for Good" technology, each coin is sonically sealed in an archival-quality case, similar to the ones used by the nation's premier coin grading companies.
Free wooden display chest – this delightful collection is housed in a deluxe wooden display chest, specially imprinted on the lid with a silhouette of her most famous mischievous character – Peter Rabbit. This luxurious display is yours at no extra cost with your second shipment, complete with a silver lock and key for added security.
BEATRIX POTTER™ © Frederick Warne & Co., 2019 Frederick Warne & Co. is the owner of all rights, copyrights and trademarks in the Beatrix Potter character names and illustrations. Licensed by Silvergate PPL Ltd. Part of the Silvergate Media group of companies.