Official Tributes to Queen Elizabeth II's Platinum Jubilee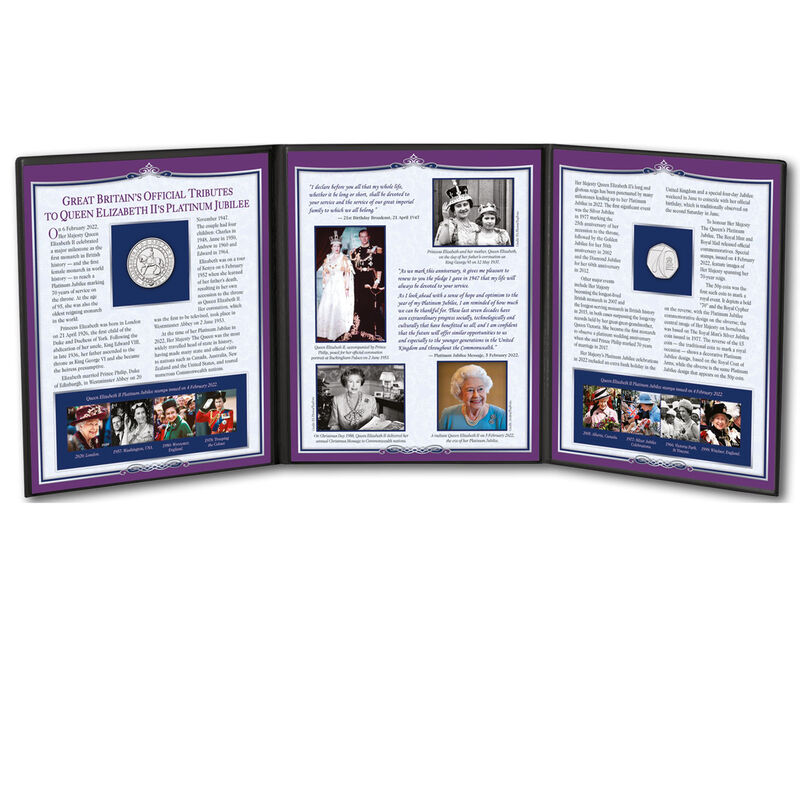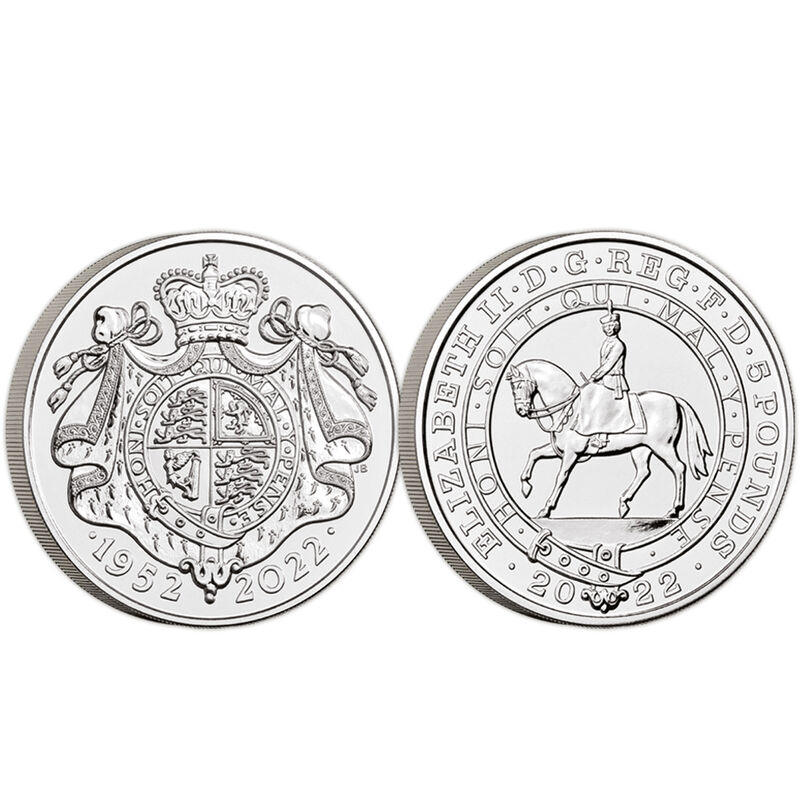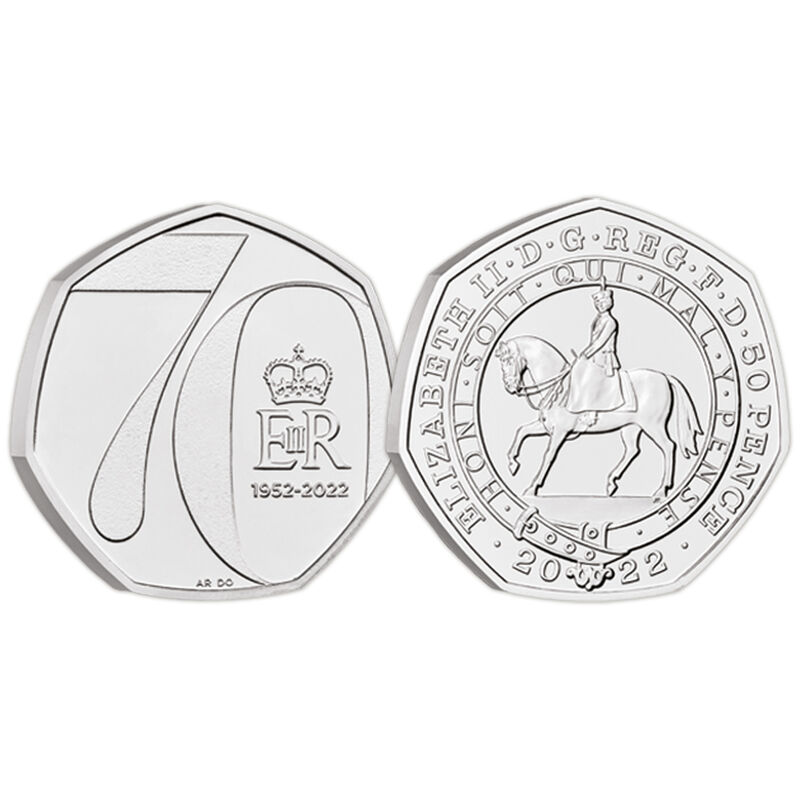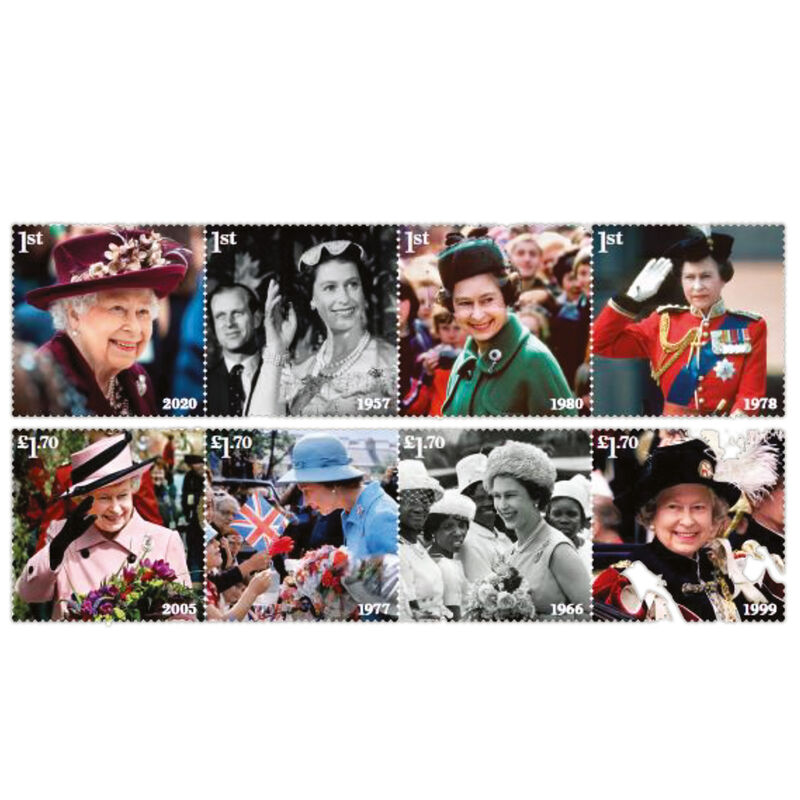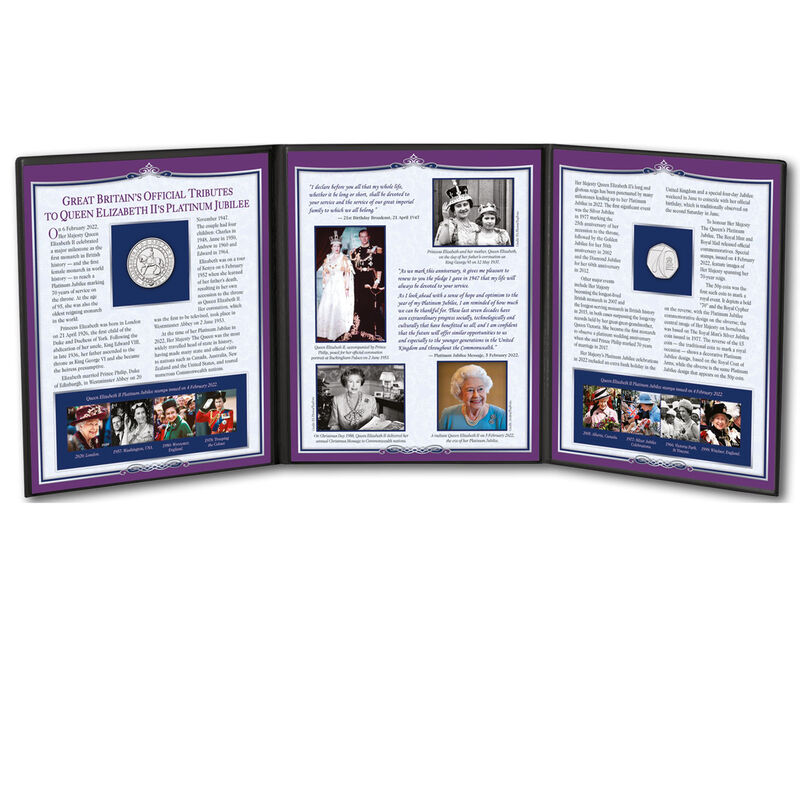 An exclusive commemorative folio featuring specially issued coins and stamps.
This custom-designed folio showcases breath-taking full-colour photographs, fascinating narrative and historic quotes about Her Majesty.
Two Brilliant Uncirculated coins from the Royal Mint honour the historic milestone.
Also included are eight official stamps issued by the Royal Mail for the occasion.
Both the stamps and coins have been protectively encapsulated and presented on three panels within this deluxe folio.
Strictly limited to 250 units nationwide.
Show Less
Show More
In stock. Ships in 4-7 business days.
Queen Elizabeth II is the oldest living and longest-reigning current monarch, the longest-serving female head of state in history and the only British monarch to celebrate 70 years on the throne.
Her landmark achievements are honoured on two brilliant uncirculated coins issued by the Royal Mint. A specially designed 50-pence coin — the first UK 50-pence coin to mark a royal event — features a large "70" together with Queen Elizabeth's royal insignia on the reverse and a Platinum Jubilee portrait of the Queen on horseback on the front. Accompanying this first in UK coinage is a five-pound coin, issued in the denomination traditionally used to commemorate royal occasions.
This spectacular tribute to Queen Elizabeth II also contains eight mint-condition postage stamps that honour her landmark 70 years on the throne. Featuring iconic images of her throughout her historic reign, these postage stamps pay tribute to the revered monarch and her extensive accomplishments as Queen of our nation and the fourteen Commonwealth realms.
This deluxe folio is enhanced by breath-taking archival photography, alongside a biographical narrative detailing important events from Her Majesty's storied life and reign.
Limited to just 250 units nationwide.